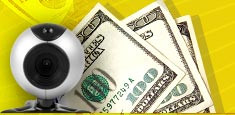 Join Chathostess
and in a few minutes you can
be online and making money.
Reasons to choose Chathostess.
1.) Earn money from home.
2.) Your privacy is very important to us.
3.) TV-like video quality which will boost your sales.
4.) Cash prizes given out monthly.
5.) You set your own schedule. No one tells you when to work.
6.) Payouts made twice a month. We offer several payout methods that are free.
7.) Choose free chat or members only chat.
8.) Earn money while you are not online by making your old private video session available for rental.
9.) Live Support that is available 24 hours a day 7 days a week. We never close we are open every day of the year.
10.) Here is the biggest one we payout 50% of everything you earn in private chat.
Steps to becoming a performer.
1.) Create a Master Account. Complete all the online forms.
2.) Validate you email.
3.) Create a model account for yourself and also your friends.
4.) Once our 24 hour staff approves your account you can log on
and start earning.
What you need to get started!
1.) Computer
2.) Web Camera
3.) Color Scans of your Government Issued Photo ID
4.) DSL or Cable Modem connection.